This new feature focuses on my favorite CDs, the ones that have stood the test of time and that I still listen to regularly on my iPod. Most of the CDs that will be featured are by bands that never quite made it to the next level and I'll be talking to members of the bands to get their thoughts about the recording of these important CDs in my life.
For Love Not Lisa
Information Superdriveway
EastWest Records
Release date: September 1995
Most people's introduction to For Love Not Lisa came via their inclusion on The Crow soundtrack where the Oklahoma-based band contributed "Slip Slide Melting" from their 1993 debut, Merge. Packed in amongst heavyweights like Rage Against the Machine, Stone Temple Pilots, Nine Inch Nails, Pantera and Helmet, FLNL's tune held it's own and the success of that soundtrack gave EastWest the confidence to pay for FLNL's follow-up, Information Superdriveway. While Merge was a culmination of tracks the band had worked on from the day they formed, Information Superdriveway was more indicative of where the band was at after two years of touring. With succinct guitar playing, a crunchy rhythm section, and angry vocals, Information Superdriveway was much more in line with the band's influences (Quicksand, Fugazi, Clutch, Paw) than Merge was and the music sounds as relevant today as it did 13 years ago. There isn't a track on this album that couldn't fit comfortably into the rotation at a hard rock radio station. While there isn't a weak song on the album, my favorites tend to be the heavier ones, the ones with more bite like the Helmet-ish "Good Intentions", "Seasick", "Kill Whitey" and "Set Apart" (my favorite of the bunch) – I LOVE when singer Mike Lewis barks out "Got to be conditioned for it" at the 2:19 mark.
I was able to catch up with 3 of the 4 FLNL members to get their memories about recording Information Superdriveway (drummer Aaron Preston never answered my email).
The players
Mike Lewis (vocals, guitar)
Post-FLNL band: Puller
Currently: Owns a rock merchandise company, Zambooie.com
Miles (guitar)
Post-FLNL bands: Puller, Twenty-Three Lions, Echo Division
Currently: Plays guitar in Echo Division
Clint McBay (bass)
Post-FLNL bands: Puller, Dead Girlfriend
Currently: Freelance editor
Here's what they had to say about one of my favorite CDs:
What was the mindset coming out of the recording and touring for Merge?
Mike: Well, the issue with all bands recording the first record is those songs are a collection of several years and you change as a band by the time you get signed and into the studio. You have not toured yet so most of those songs are written without playing live. By the time you get to the second record you have been a band for a few years and have been touring and you kind of find yourself. I think listening to Merge and Information, they are very different records with Information being my favorite.
Miles: I remember there being some energy and excitement about the idea of doing the new record due to all the hype and attention we got from The Crow soundtrack. Unfortunately, I think the belief that big things were going to happen to FLNL post-Crow (due to two million people having the record) may have ultimately caused the demise of FLNL when Information didn't take off as we had hope. To our credit, I think the label really dropped the ball by not latching on to the popularity of The Crow in order to promote FLNL. How can a label not recognize the importance (and gift) of having one of its bands associated with a hit movie and all the other bands on the soundtrack like The Cure, Rage, NIN, STP, etc.?
Doug Carrion was one of the producers of Merge, played bass on that CD and toured with FLNL. What lead to Doug leaving and how did you find a replacement?
Mike: Doug was not working out touring wise.
Clint: I had been in a band with Aaron (Chainsaw Kittens) and we had quit at the same time (long story). Anyway, he got a call from Lewis to come to LA and join FLNL. The bass player at the time was actually a guy named Jeffrey (I think) and he played on some of the tracks on Merge. I don't think they really got along with him and Doug was there producing. Somehow Jeffrey was fired and Doug took his place. Aaron was advocating for me pretty hard, so they gave me a call and I moved to LA a week later.
How much material did you have backlogged when going into the recording sessions for Information Superdriveway? I know that "Had a Lover" was an older song that you dusted off for another spin. What about the rest of the songs?
Mike: "Had A Lover" was really the only older song. I never loved that song but other people kept bringing it up while writing songs for the second record, so I thought maybe I'm dumb and we should just add it to the new record.
Miles: A majority of the songs were written during tours for Merge and when we had some downtime. Sometime after the touring for Merge ended, Mike, Clint, and Aaron all moved back to OKC for a while. I remember flying to Oklahoma once at the encouragement of our A&R guy and managers in order to write some more songs because they thought we could use a few more to chose from. Some great songs came out of that last session.
What do you remember from the studio when recording Information Superdriveway? Did you record the whole thing in one stretch or was there a lot of back and forth in the studio?
Miles: The studio building actually contained two recording studios. The big one (with a giant tracking room for drums, orchestras, etc.) was the one we used (I think Ritual de la Habitual was recorded there, among others). The other studio down the hall was a Rap and Hip Hop studio. While we were there, Snoop and Warren G. were recording as well. There was often a haze of pot smoke coming down the hall where we shared a bathroom with their studio. Once I bumped into Snoop in the hallway and he actually said, "What up dog?" I'm sure Mike has told you the story about the gun that fell out of Warren G's sweatpants while they played horse on the outside basketball court – right? I was eating at the outside table when I heard the clank of the metallic pistol hit the pavement – classic.
Mike didn't tell me the Warren G. story.
Miles: We used to take breaks and play basketball (the studio had an gated enclosed courtyard area with a basketball hoop, some tables for eating outside, etc.), but when the hip-hop guys were at the studio they would park their nice cars (as in 100K Mercedes – a gift to Warren G. from his Uncle Dr. Dre – at least that's what we were told) inside the gates, which was a drag because we always wanted to play HORSE or some dumb game we made up. I can remember many times frantically trying to grab the ball after an errant shot so that the basketball wouldn't come down on the hood of Warren G's (or producer's, etc.) car. There were of course a few times when the ball did hit a car, and we would slowly glance around to make sure nobody had seen.
Clint: I remember many things, playing basketball with Snoop Dogg, hanging with the guys from Drown, drinking with Steven Haigler, going to Mo Better Burger almost daily… Being the bass player (the bastard son of the band) I was usually finished with my parts pretty quickly. After Aaron finished, I could knock the bass tracks out in a few days. So most of my memories are of hanging out, goofing off, etc.
Was it a positive recording experience? Did you make any compromises that you regretted at the time? Is there anything that now, in hindsight, you would have done differently?
Miles: I think the record sounds amazing and using Steven Hagler to help facilitate our Quicksand obsession was a great idea. I've often thought that if on Merge we had also had a producer or someone from the label to help edit or mold one of the really melodic tracks on the record, if that might have helped equip the label with a more obvious "hit single." I don't know…, but that record is one of my favorite musical moments that I've been a part of. When I play it for people who have never heard of FLNL, they are always blown away. It's too bad the label (Elektra) couldn't make it happen, but as Mike said one time, our CD closets are filled with great bands that never broke big (The Replacements, Failure, etc…..).
Were you guys responsible for your own artwork? If so, what was the idea behind the cover and all the inside artwork/photos? If not, what do you think of the package as a whole?
Miles: Yeah we were responsible. That sounds like a loaded question, Chip! 🙂
We were going for something that showed or implied our Oklahoma/midwestern background. In the end it probably turned out a little more kitchy than I had hoped for. I really liked the photos of the band in the 50's diner. I thought those shots had a little bit of a CLUTCH feel to them.
Clint: What I remember most is the label calling and asking if I'd like my black eyes Photoshopped (Aaron had thrown me into a mosh pit a couple of weeks before the photo shoot and I got my ass handed to me. I ended up with stitches above one eye and both of them turned black. ) I declined the Photoshop, I kind of liked the black eyes 😉
Mike: We had such a bad time working on art for Merge, I was going to make sure I was the art director on this new record, the concept was Miles' I think. We shot the inside pictures and band photos all in the same shoot. I had some ideas layout wise. I knew I wanted a photo spread that split in the middle of the fold. I was still learning how to layout stuff at the time so I made some mistakes with the fonts and info, but overall I was real happy with it.
I was a huge fan of Merge, the timing of the release was perfect for me because I was discovering bands like Helmet and Quicksand while, at the same time, already being a fan of the stuff coming out of Seattle. I thought Merge did a good job of mixing some heavy stuff with some pseudo-grunge stuff. It wasn't all dark and depressed like most of the stuff coming out of Seattle but it had some elements. Information Superdriveway knocked me on my ass the first time I heard it – a series of crunchy and quick blows to my ears. What led to the more aggressive sound for the second album? In context to the rest of the FLNL stuff and the most-FLNL stuff, Information Superdriveway definitely has a sound all it's own.
Miles: I think what led to the sound was the influence of Helmet, Quicksand, Fugazi, Clutch, and some others. But also we learned quickly that the heavier tracks always went over better live and I think we kind of drifted that way in response to playing shows with other heavy bands. I also think Mike's lyrics are great, especially the way when the lyrics explore weighty subjects, but also seem to have a silver-lining to them or a sense of hope.
Mike: Merge was a band trying to find a voice. If we were honest that Merge is a mix of grunge influence, mixed with Jane's Addiction, mixed The Cure, everything we were listening to was records with 13 minute songs, so that record was long winded and had stuff in it that could have been focused in a little. "Information" was a band who had toured it's ass off, and we were a machine at that point the songs were mostly written together so the record just seems more together, (you should get the Lost Elephant EP on T&N records, there are three unreleased songs from Information on it)
Can you share some thoughts about each song?
Mike: 1. Had a Lover – was really about dating people you should not be with, and how toxic those people can be on you
2. Coming into Focus – (one of my favorites) was about our generation and how lost we are, finding out who you are.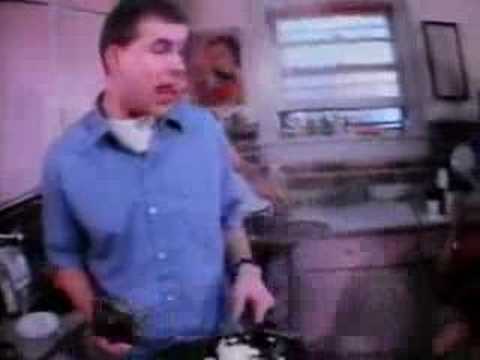 3. Good Intentions – that song explains my whole life, mistakes are the result of Good Intentions.
4. Seasick – is about fighting with your wife and how sick you get of going back and forth.
5. Daydream – overcoming your parents view of you. I wanted to be something they did not approve, so this was a dream for myself to just be myself.
6. Play – was my tribute to Fugazi. I love them and what they stand for so I wanted though out a little love.
7. Set apart – this song touched on my Christian faith and it a reference to a verse in the Bible about being set apart.
8. Snowball fight – honestly I was big snowboarding fan and I wanted to write a song that could make it on a snowboard video
9. Kill Whitey – is of course about racism. It was a call to us to take care of business.
10. Triple A – is a wired love song
11. New Few – overcome your situation. If life is kicking your ass learn your lessons and move on.
12. Fathers and Sons – is of course about my unending battle with my father, who is an ever constant thorn in my side.
13. Some afternoon Glitch – one of the only happy songs I ever wrote. You're supposed to listen to this song on a afternoon drive with the windows down on a sunny day (yeah!)
What about putting songs in order? What are your 3 favorite tracks and why?
Miles: Honestly at the risk of sounding like Noel Gallagher from Oasis or some other arrogant musician that's full of himself, I went to my iTunes and started clicking on different tracks. And I have to say that there's a reason I don't listen to the record that often, and that's because I think the songs are great. It would be like picking which of my daughters I like better. And the songs literally give me chills when I hear a song like "Triple A" or "Some Afternoon Glitch" and I'm instantly taken back to some sweaty rock club in the midwest when I hear "Fathers and Sons." It makes me miss those days and friendships made from touring. It also makes me bitter at the people at the label who let the record die on the vine. Wow Chip, thanks for making me dig all that up! Maybe I need a therapist. But to answer your question, the tunes that touch on the Fugazi vibe, are the ones I dig the most.
Mike: "Coming into Focus" is my favorite. I really think that song could have been our song people loved us for. It should have been the single but the label would not get it, we even made a video for it out of our own pockets, trying to show the label what a good song it was, but of course nothing happened with it.
Clint: Good Intentions, Fathers and Sons, Kill Whitey
I like these all for the same reason. I never liked the slow songs, I hated playing them. I always wanted to rock and the heavier the song the better.
I think it's funny to look at the bands we all started after FLNL broke up. You can see our song writing preferences when the other guys aren't there.
Lewis had Puller. Technical (at least to me) songs that rocked. He has always been one of my favorite writers.
Miles has Echo Division. They are AAA/pop rock. Very catchy. Not exactly my style, but still really good.
Aaron and I had Dead Girlfriend. Punk metal (and I finally got to play guitar!!)
So I guess if you take those influences and mix them together you get FLNL. What was the question 😉
Information Superdriveway had mixed reviews. The AllMusic.com review references the Goo Goo Dolls and The Replacements (?!?!?!) while I remember a particularly brutal CMJ review that compared you to Def Leppard! To this day I think that people that wrote about the CD just didn't get it. Do you think it was underappreciated?
Mike: For sure we were underrated. The way I look at reviews is most reviewers back then were really photographers who had to write reviews as well because the magazines could not afford to hire both.
Miles: Unfortunately, tons of good records have been lost in the shuffle over time. I think people like yourself (and all the work you've done with your magazine) are the life preservers of the music scene. If it wasn't for independent media outlets (LA Weekly, etc.) allowing indie label artists or unknown major label bands (who get lost in all the corporate mergers), the music biz would be in even worse shape than it is now. And it's pretty sad right now for sure.
Clint: Obviously I think anyone who compared us to Def Leppard didn't listen to the CD. I think AllMusic has it wrong as well … I wish we were half as cool as the Replacements!!! Honestly I have a hard time saying if Information was underappreciated because I'm too close to the songs. All I can say is I liked the CD and I think I have OK taste;-)
As this was the last For Love Not Lisa full-length, do you think you went out on a high note or would you have liked to have done more as a band under different circumstances?
Clint: I would have loved to continue playing with those guys…actually I did. I played with Lewis in Puller. Aaron and I started Dead Girlfriend. I think we're all still pretty close, even though we don't talk all that often. We've all revolved in and out of each other's bands. Lewis and Geoff from Puller both played on the Dead Girlfriend demos. Miles and I both did stints in Puller. In hind sight we probably could have stuck it out a little longer, but things seemed so tough at the time I think we all felt it was time to end it.
Miles: I believe that if we could have had a little bit more success then it would have given not only our label confidence, but I think some success could have soothed the nerves and egos of the band as well. If after The Crow we had sold a few more records and had more luck with the tours we got on (played in front of more faces), I think the label would have gotten behind a third album, and you never know, maybe that could have been the one. It took The Flaming Lips about 5 records to get their big radio hit that led to where they are now. Sometimes it just takes a while…
Mike: Sure, we never met our full potential, we toured with every band that later made it big we just never got there.
The internet was just sort of in it's infancy in 1995. How did you come up with the title of CD and do you think you were ahead of your time?
Mike: Miles came up with it and I do think we were ahead of our time, which mean for an early grave in the music buisness.
Miles: I guess I have to take the blame if it came across silly and not very rock. I perceived the title and the cover as a kind of Soul Asylum/Replacements kind of thing. You know, admitting that though we love our music and that it comes from our hearts, at the same time, we also were aware of a lot of rock posturing that was going on around us (stuff we saw first hand with bands we toured with and played shows with – see: Candlebox, etc.) so to me, the cover was supposed to express or show that "we're from OKC and we're a rock band." As opposed to a Creed cover where our faces are grafted into the trunk of a tree!
Clint: I think the title was more of a play on our Oklahoma roots. We always kind of joked about our backwoods ways. So if the rest of the world was on the Information Highway, we were stuck in the driveway.
In all the years I've known you, I've never asked this question (and have never seen an explanation though I suppose I haven't really searched the internet that well): Where did the name For Love Not Lisa come from?
Miles: That's Mike's story. I don't like to talk about serial killers.
Mike: How many licks does it take to get to the center of a Tootsie roll pop, the world may never know
Mike and Clint formed Puller. Clint left and a few years later Miles joined the band. I have no idea what happened to Aaron but he was the only member from Information Superdriveway that never played in Puller (to my knowledge).Do you think there is a chance that the Information Superdriveway lineup of For Love Not Lisa will ever play another show together or write any more music together either under the For Love Not Lisa name or some other name?
Clint: Aaron actually did play in the original incarnation of Puller (before it was called Puller.) After FLNL broke up, Lewis, Aaron, and I started playing with a guitar player named Terry Poole. I think that we still had an issue or two from the FLNL days and Aaron and Terry left. That's when Geoff came in and I switched to guitar (for a second). I eventually quit as well. It was hard because Lewis was one of my closest friends, but at the time it was the right decision for me.
As for playing as FLNL again, Lewis, Miles and I got together last November and wrote a couple of songs. We had Sam West from Stavesacre come in and play drums. I wish Aaron could have done it, but he was in Oklahoma and we were in LA.
I'm not sure where the songs are in the process of recording. I know the drums and bass parts are finished, but Lewis has the songs now to do all of his parts. They may surface at some point.
Mike: The plan was to release them on iTunes and do two reunion shows – one in LA and one here in Nashville. I have been holding up the show by not adding lyrics and doing my vocals yet, it's because the company I own Zambooie.com takes up so much time it's hard to get away to work on music. But I plan to do it maybe even this week, then plan our shows in August some time.
Miles: To me, if the songs and the magic are there – then let's do it. If not, then let's leave it alone. I would hate to disturb the innocence and integrity of a great band. Once again, though I don't see the guys from the band on a regular basis, I love them like family and that's the God's honest truth. I think it's probably like being in a gang or the Army, there's a connection forever. So it would be great to tap back into that energy and revisit those days if that's even possible.
Information Superdriveway is available on iTunes